Suppose that we consider the rating of players of our team in the private component.
For example, we determine the ranking of players on the pass for the back in the first exchange.
At once it is necessary to tell, that this private component is opposed by a private component of the opposite command which can be qualified as counteraction to a pass for a back in the first change.
For both components of the solution, the SLR will be the same.
Suppose that during the official match we collected statistics on won and lost martial arts in this component of the game.
There are "our" players 1 and 2, there are rivals 1 'and 2'.
The "win / lose" relationship: 1/1 '= 2/1 1/2' = 3/2 2/1 '= 3/1 2/2' = 4/0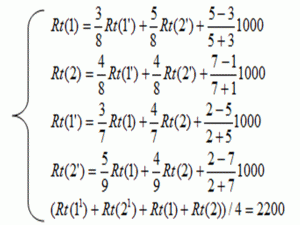 If we consider a successive substitution (first 2200, then the already obtained values ​​of the ratings), then the last equation is not needed.
Rating in sport: yesterday, today, tomorrow / AA Polozov.
– M.: Soviet sports, 2007 – 316s.
Handbook of Ratings. Approaches to Ratings in the Economy, Sports, and Society / A. Karminsky. A. Polozov / International Publishing house "Springer", 2016., 360c.